Today I visited the Museum of English Rural Life (MERL) to attend an Engineering Drawings Workshop hosted by Monument Fellow Dr Jonathan Brown who has been associated with MERL for many years.
The Museum hosts the drawings of several engine makers, including Burrell, Wallis and Steevens, Ransomes and the enormous collection of John Fowler drawings.
The purpose of the workshop was to "learn about their origins and how we can use them now" and a diverse range of guests attended the event to find out more.
Makers Drawing Departments
Makers often viewed the drawing process as a drain on their resources and therefore drawings were completed as quickly possible. In some case drawings for certain engines were never completed, the general arrangements drawings in particular which were often drawn last.
Draftsmen were well respected with makers however, with their wages being the highest of all the staff in an organisation and a strict hierarchy of supervisors and junior staff. It was also common for Designers to be Draftsmen.
The quality materials used to produce drawing varies between makers, the bigger concerns with more funds such as Fowler paid a premium for better paper.
The drawing process and the preparing of blue-prints changed over time and as new technology became available the reproduction of drawings improved.
Drawings on Display
Several interesting drawings were on display, including the General Arrangement drawing for Fowler's Superba Ploughing Engine completed in 1927: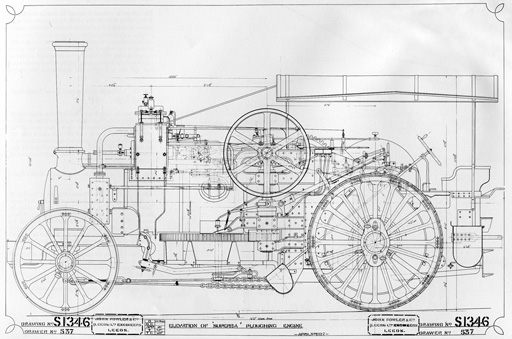 This drawing was described as exceptional by a guest who had worked with engineering drawings during his career.
There was also a Wallis and Steevens portable engine which was thought to have been a Wm Fletcher design, a very early steam ploughing drawing from the 1860's which was thought to have been used in advertising material and a selection of drawings from the John Allen company.
Visiting MERL
I am hoping to visit again soon as there wasn't a chance to browse the actual collection. Many of the drawings are now listed on the MERL web site and more indexing of the collection is ongoing.
The Museum is open every day 9-5 and admission is free of charge. Dr Brown tells me that if you are interested in a specific drawing then it is best to ring ahead and they can sort the drawing out for the day you visit.
More details about the Museum and how to find it can be found on their web site.