Al Jackson whose family own Fowler AA7 class Ploughing Engines 14726 & 14727 has kindly sent me the following information and pictures about the engines.
The Order
The order for the a new set of engines was placed in by my great grandfather Lewis Jackson on July 13th 1917 with a £500 deposit and request of delivery 'as early as possible in January 1918′. Manufacture was slow as steel was in short supply at the time. A letter dated July 18th 1917 was then sent by John Fowler explaining that they could not guarantee an exact time of delivery because the war was effecting the supply of steel and that they were under government control. My great grandfather sought interest on this deposit from John Fowler but they refused as on the grounds that 'both wages and materials have considerably advanced since this order was placed'. After the Jackson order had been placed, John Fowler changed their pricing policy so that the customer, not John Fowler, would bear any inflationary costs.
Letter from John Fowler to Mr Lewis Jackson
18th. July 1917
Dear Sir,
Following our letter of the 16th, we omitted to state that we cannot guarantee the date named on the order for the delivery of your tackle, that is January 1918. We are under Government control, and the whole of our output is already appropriated, and we doubt very much whether, under the present difficult working conditions, we shall be able to complete your tackle before the end of March or April, and so long as the war continues, you will quite understand that no delivery date can be guaranteed. We wish to make this clear to your now to avoid any misunderstanding or disappointment later. You may rest assured that we shall do our best.
Yours truly
M.Thackeray
Director for John Fowler & Co. (Leeds) Ltd
Delivery
On Armistice day, Nov 11th 1918, approximately sixteen months after they were ordered, and eleven months more than anticipated, the first engine 14726 arrived at the nearest rail station to the farm. My grandfather returned from Cologne on leave and collected it. The 2nd engine 14727 followed one month later. My great grandfather paid a deposit of £500 in July 19th 1917 and the balance paid after delivery on Dec 7th 1918 of £3,488, paying a total of £3,988.
The John Fowler and Co Ltd invoice Oct 31st 1918 to my great grandfather was for the following; two 16.H.P. Compound steam ploughing engines 14726 & 14727, a 6 furrow anti-balance plough No.12817, a 11/13 tyne turning cultivator no.12871, a mole draining plough No.12847, and a five person ploughmen's sleeping van No.12899 that was later confiscated by the war effort and given to Barnardos.
The details on the engine documents are as follows:
16H.P. Compound Ploughing Engines with special steel winding drums for draining and 800 yards of Fowler's special steel wire rope on each drum, 30 wires, Waterlifters on each with 26ft of suction hose, injectors, mechanical lubricators for cylinders: washout arrangement and one 20ft length of suction hose for the two engines: double water gauges. Spuds, tools, toolboxes, etc.
We believe the model to be Fowler AA7 that came with a straight chimney. Later AA models came with a tapered chimney with a top brass rim.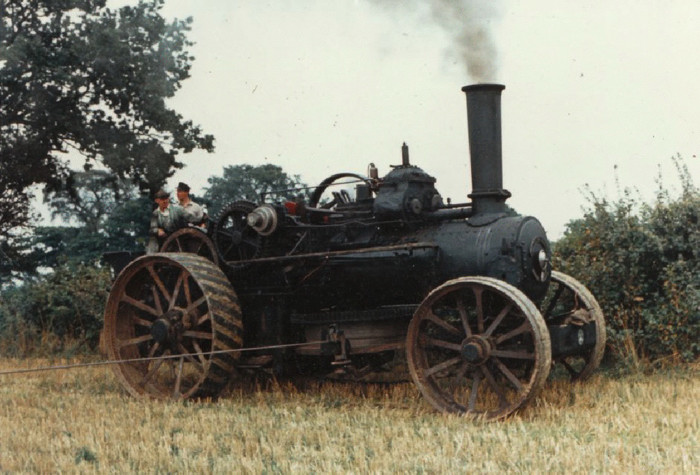 On the Feb 5th 1918 a 2 wheeled water cart was supplied with steel frame, barrel 5ft by 3 ft diameter, hand pump with 21ft of suction hose and a delivery cock of 8ft was purchased for a sum of £74.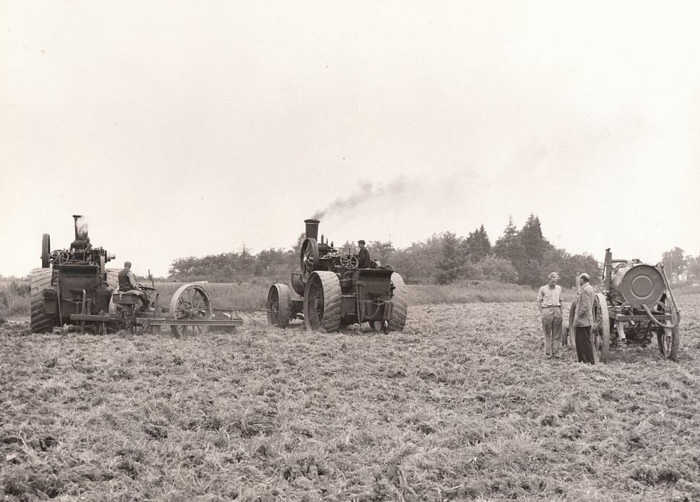 The engines were last used in 1976 and were only operated for agricultural use and not for public events.
Lewis Jackson
Al also send some further details of his great grand father, Lewis Jackson the man behind this pair of engines who worked very hard for many years to pay for them.
Lewis Jackson was born on April 30th 1863 in Ottringham, East Yorkshire and died on July 19th 1949. He endured difficult times in agriculture to leave a legacy of steam power history and memories to many. Just over a decade from August 1906 Mr Jackson relocated his family and farm equipment 180 miles south to Suffolk, purchased a 300acre farm, then heavily invested in modern technology when the world was at war and just after his eldest of three sons was killed in action. His second son returned from the war safely and collected the 1st engine on Armistice day, November 11th 1918 after a wait of sixteen months. Lewis Jackson named his engines 'Peace' and 'Victory'.
This modern technology proved vital in the battle to feed the country in the war/post-war period. Much of the cultivation not only on Lewis Jackson's Farm but many of the farms in a twenty mile proximity were carried out by these pair of steam ploughing engines. They continued their service long after the advent of sole operator tractors as the steam ploughing engines offered greater efficiencies of power and speed. Gradually as tractors became more technologically advanced, and labour and running costs increased, the Jackson engines use was limited to just their Farm. Their final year of use was 1976. The son, Harold Jackson, who collected the engines from the local railway station back in 1918, died two years later.
Harold Jackson is pictured below in 1975 on one of the engines: