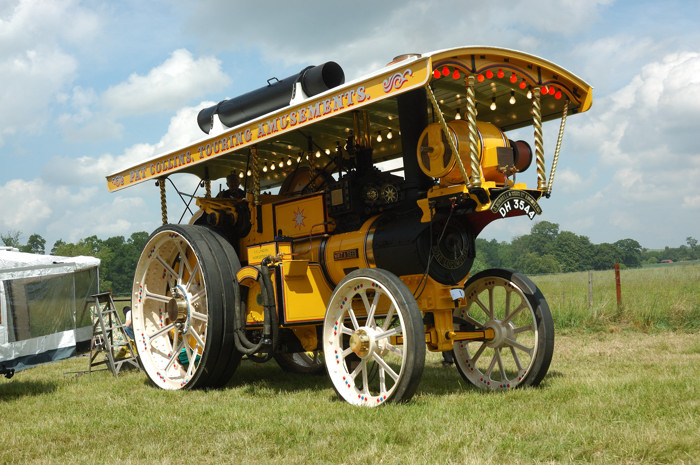 Stapleford saw the debut of Burrell 3910 7NHP Showman's Engine, Wait & See. The engine is a former Pat Collins engine and has been owned by it's present owner Bill Hunt for over 50 years and prior to this weekend it had never been to a rally.
The engine is unique in that it was finished in yellow with cream wheels, the only Burrell showmans to be finished in this livery and one of only 3 engines not finished in a shade of red, the other 2 being 3526 "Lightening II" & 4000 "Ex-Mayor".
Burrell's originally sold the engine through their hiring company to Crowther & Johnson of Sheffield, however after less than 2 years the engine was repossessed as the owners were unable to keep up the repayments on the engine. The engine was returned to Thetford and the subsequently sold to Pat Collins. The story goes that Pat Collins was having some issues one of his other engines, No. 1 and he went back to Burrell's and saw 3910 in the yard, an agreement was reached, the price paid was £1100, a good deal less than the £2500 paid for it when it was new.
The engine worked for some time in the original yellow paint but later was painted in the more traditional red. In 1946 a new firebox was fitted but less than a year later the engine was taken out of use and lay in Pat Collins yard in Bloxwich until 1955 when it was purchased by a young Bill Hunt when Collins started to sell off and scrap their remaining engines.
Time constraints meant that the engine remained unrestored until 2003 when the engine was moved to Dingles museum and restoration started and finally being completed earlier this year.
Selection of other pictures of the engine, click an image for a bigger version:
Surviving Burrell 7NHP Showmans Engines
2625 "Lady Pride of England"
2879 "Princess Royal"
3118 "Dreadnought"
3159 "The Gladiator"
3288 "Nancy"
3423 "Star"
3526 "Lightening II"
3651 "Earl Kitchener"
3804 "Independence"
3871 "Western Pioneer"
3890 "Majestic"
3910 "Wait & See"
3933 "Princess Mary"